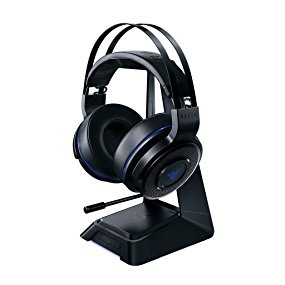 Razer Thresher Ultimate
Wireless Headset for PlayStation 4
Introducing the ultimate wireless gaming headset certified by THX with Dolby Headphone technology, the Razer Thresher 7.1 for PS4. On top of delivering lag-free audio immersion, this premium headset also focuses on undisputable comfort. Lined with leatherette, the lightweight memory foam ear cushions rest perfectly against your head, giving you a natural feel that is second to none. The in-built quick control buttons and a retractable digital microphone provide you with instant access to game and voice balance as well as volume even in the heat of battle.
Circumaural Design with 50mm Driver Units providing crystal clear audio
Volume & Mic Control Buttons on the Headset
Comes with headset stand & base station
Headphones - Radio Frequency: 2.4GHz
Headphones - Frequency Response: 12 - 28,000 Hz
Headphones - Impedance: 32O at 1kHz
Microphone - Frequency Response: 130 - 10,000 Hz
Microphone - Sensitivity (@1kHz, 1V/Pa): -42 ± 2dB
Microphone - Signal-to-Noise Ratio: >55 dB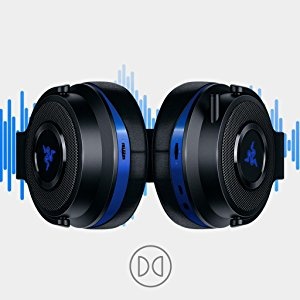 Dolby Headphone with 7.1 Surround Sound
Featuring Dolby Headphone, the Razer Thresher 7.1 for PS4 provides you with industry-leading audio realism that is certified by THX. Whether you need to detect where the enemies are coming from or hear your aerial backup flying past overhead, you can expect to hear every single detail in utmost clarity for a truly immersive gaming experience that will put you ahead of your opponents.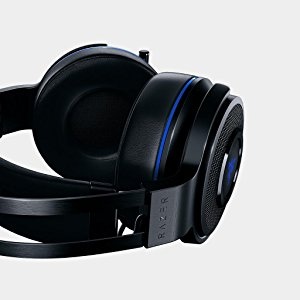 Lag-Free Wireless Connection and Digital Microphone
The Razer Thresher 7.1 for PS4 is engineered to ensure a lag-free long-distance connection of up to 40 feet / 12 meters. The retractable digital microphone gives you the flexibility to communicate with your teammates clearly, even in loud environments, delivering your commands with true-to-life quality and reliability.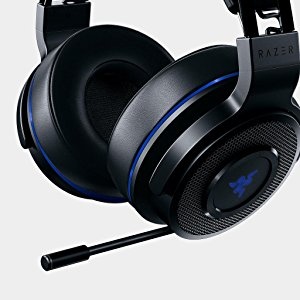 Lightweight, Leatherette ear Cushions
Designed to be completely comfortable even during intense gaming marathons, the lightweight plush ear cushions are made from memory foam and leatherette, so they that effortlessly conform to the unique shape of your head. Now, you can game for hours on end without needing to give your ears a break.

Self Collection
Do contact us directly at 83286692 to arrange for self collection
Island-Wide Delivery
We provide same day delivery services for our top selling products.
Return & Exchange Policy
We may, subject to our discretion and policies, allow returns and exchanges.